Dr. Paul Serrano, having grown up in the East Valley, is proud of his Arizona heritage. Most of the Serrano uncles, aunts, and cousins are still running family businesses across Maricopa country.
Serrano Orthodontics is truly a practice that focuses on the entire family, from children who could benefit from interceptive treatment, parents who need a 'tune-up' with Invisalign to grandparents looking into treatment for obstructive sleep apnea using the most therapeutic oral appliance available.
The 'family' in family orthodontics doesn't stop there! Dr. Andrew partnered with Dr. Serrano and both doctors are looking forward to when Emily Serrano joins the practice after she finishes dental school.
Dr. Andrew Serrano was born and raised in the Valley of the Sun. Chasing cooler weather, he attended Brown University in Providence, Rhode Island, where he majored in biotechnology.
Not only did he excel in the classroom, but he also thrived on the football field, earning All-Ivy Honors as team captain his senior year.
Dr. Andrew returned to Arizona to complete his doctorate degree at Arizona School of Dentistry and Oral Health. He remained to complete his master's degree in public health and his postdoctoral residency in orthodontics.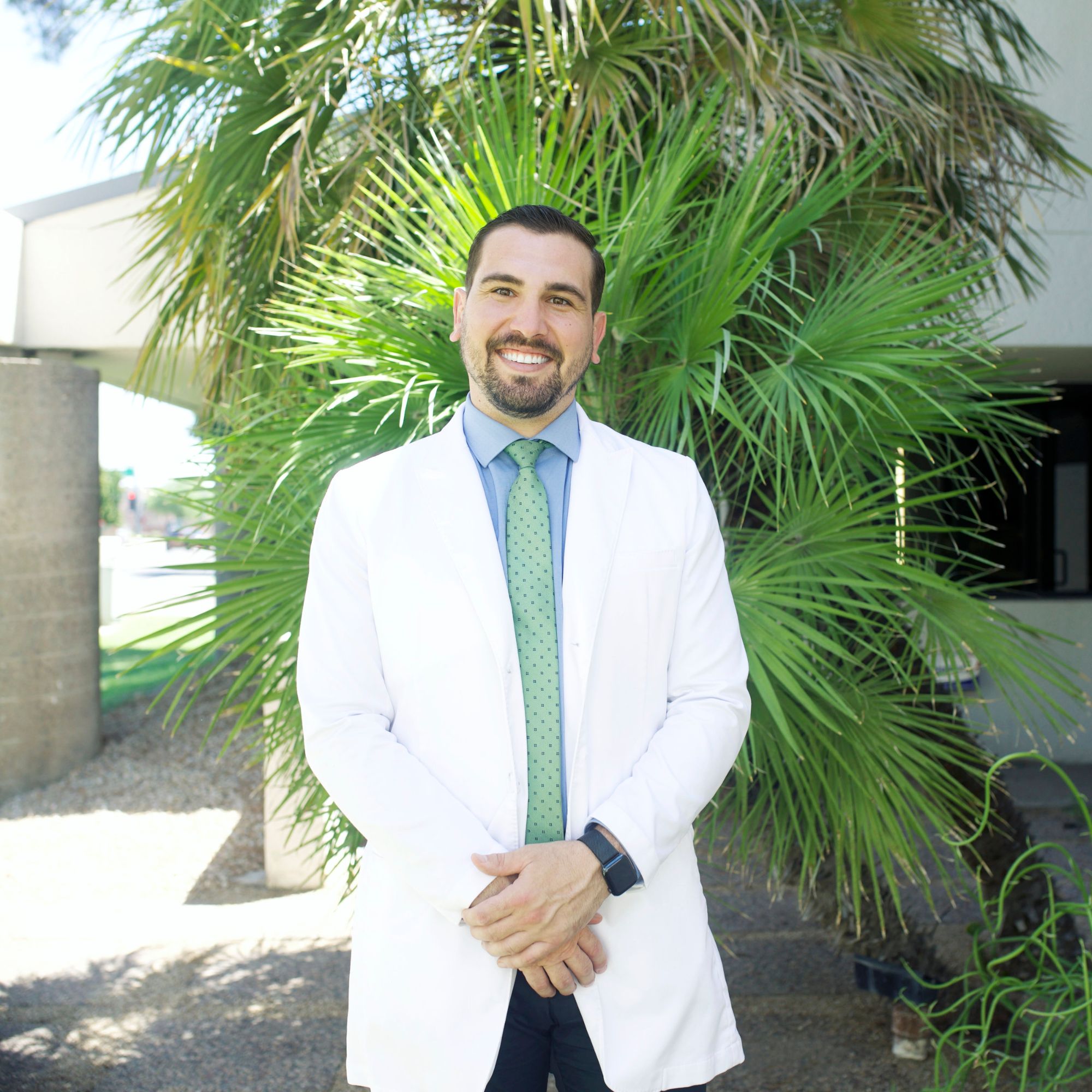 Your Chandler AZ Orthodontist
Orthodontist vs. Dentist
An orthodontist is a dentist, but a dentist is not an Orthodontist. All orthodontists are dentists first, but though not every dentist has the qualifications to be an orthodontist. our doctors continued their formal education for 2 or 3 additional years before receiving the necessary license and certification. As orthodontists, Dr. Paul and Dr. Andrew have spent years studying nothing but how and why to move teeth. This includes what to do, how to plan, and how to execute the appropriate treatment plan.

Why does it matter if you see your Chandler AZ Orthodontist?
Specialists receive additional training to give them the skills needed to deal with more complex orthodontic problems. Dentists receive basic orthodontic training which allows them to perform root canals, extract wisdom teeth, and treat young children who do not need to see an orthodontist yet.
Seeing a specialist like your Phoenix orthodontist may change your experience in braces by:
Providing additional treatment options.
Giving you more efficient treatment and visits, because it is the office's primary area of care.
Knowing that you'll receive the best possible outcome on your treatment plan, especially if you have severe bite problems that need to be addressed.
Personal experience treating multiple cases that share your unique concerns
Being seen more quickly, as a family dentist will be focused on longer patient cases or emergencies throughout the day.
You may think it's easier to have your orthodontic work completed by your dentist. Convenience shouldn't be a concern, because you will only be stopping by your Phoenix orthodontist's offices every six to eight weeks.
And don't let price be a problem either! Serrano Orthodontics is proud to provide affordable treatment in the Chandler AZ area.
Testimonials from your Phoenix orthodontist patients
I had a great experience here. The people here are awesome and super friendly and know exactly what they're doing. I would highly recommend coming here!
This office is extremely friendly and everyone is always smiling. Always willing to answer any questions and explain exactly what's going on. Had both my kids and myself get our braces done here! Definitely recommend them!
Our daughter received the finest care imaginable at Serrano Orthodontics. Doctors and staff are consummately skilled in both patient care and family communication. I wish there were more stars to give - they'd get 'em all.